Tramp zvil'nyv radnyka z nacbezpeky Boltona
Vivtorok, 10 veresnya 2019, 19:24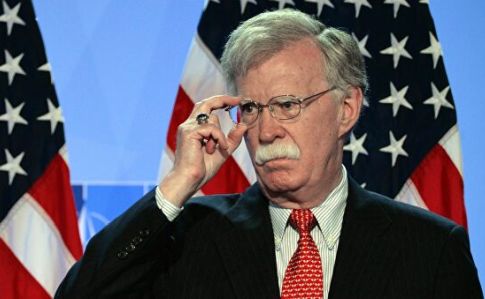 Prezydent SŠA Donal'd Tramp zvil'nyv radnyka Biloho domu z pytan' nacional'noї bezpeky Džona Boltona.
Pro ce povidomlyaje "Jevropejs'ka pravda".
"Ja povidomyv Džonu Boltonu mynuloї noči, ščo joho posluhy v Bilomu domi bil'še ne potribni. Ja duže ne pohodžuvavsya z bahat'ma joho propozycijamy, jak i inši v Administraciї, i otže…", - napysav Tramp u svojemu Twitter.
"Ja poprosyv Džona pro joho vidstavku, jaku meni podaly syohodni vranci. Ja duže dyakuju Džonu za joho službu. Ja nazvu novoho radnyka z nacional'noї bezpeky nastupnoho tyžnya", - zaznačyv Tramp.
Vidstavka vidbuvajet'sya na tli povidomlen' pro rozbižnosti u pohlyadax čynovnykiv kabinetu Trampa ščodo skasovanoho myrnoho planu iz zaprošennya talibiv do SŠA. Bolton vystupyv proty zustriči z talibamy, jaku Tramp skasuvav u vyxidni pislya toho, jak spočatku zaprosyv uhrupovannya do SŠA zaveršyty myrni perehovory.
Pryznačennya radnyka z nacbezpeky ne vymahaje sxvalennya Senatu SŠA. Bolton u berezni 2018 roku stav tretim radnykom z pytan' nacional'noї bezpeky Trampa za 14 misyaciv. Vin desyatylittyamy buv "jastrubom" zovnišnyoї polityky u respublikans'kyx kolax, pracyuvav v administracijax Ronal'da Rejhana, Džordža Buša-staršoho i Džordža Buša-molodšoho.
I informed John Bolton last night that his services are no longer needed at the White House. I disagreed strongly with many of his suggestions, as did others in the Administration, and therefore....

— Donald J. Trump (@realDonaldTrump) September 10, 2019
....I asked John for his resignation, which was given to me this morning. I thank John very much for his service. I will be naming a new National Security Advisor next week.

— Donald J. Trump (@realDonaldTrump) September 10, 2019
Nahadajemo:
Bolton naprykinci serpnya zdijsnyv vizyt do Ukraїny. Na tli pryїzdu stalo vidomo, ščo prezydent Tramp pryzupynyv vydilennya koštiv na vijs'kovu dopomohu Ukraїni u rozmiri 250 mln dolariv SŠA, pojasnyujučy ce neobxidnistyu vyvčyty efektyvnist' vykorystannya tijeї amerykans'koї dopomohy, ščo vže nadavalasya.
Detal'niše čytajte u statti: "Hroši Kytaju abo pidtrymka SŠA: jaki nebezpeky nese Ukraїni prodaž "Motor-Siči"

Čytajte nas takož u Telegram. Pidpysujtes' na naši kanaly "UP. Klyati pytannya" ta "UP. Off the record"
powered by lun.ua