Polittexnoloh, ekspert v sferi stratehičnyx komunikacij
Ymydž Ukraynы v Sankt-Peterburhe
04 kvitnya 2009, 21:52
Nedavno vernulsya s Meždunarodnoho sympozyuma "YMYDŽ HOSUDARSTVA/REHYONA V SOVREMENNOM YNFORMACYONNOM PROSTRANSTVE" kotorыj proxodyl v Sankt-Peterburhe. sajt

Tam ja vыstupyl s dokladom "Ymydž Ukraynы v sovremennom kontekste" y master-klassom "Brendynh Odessы".

Uže bыla ystoryja s podobnыm moym dokladom v Rossyy, kotoraja zakončylas' ne očen' pryjatno. Delo bыlo v Penze, o čem ja uže pysal.

Na эtot raz vse bыlo s točnost'ju do naoborot.

Očen' korrektno, s uvaženyem prošlo obsuždenye dannoj temы. Podkupaet to, čto v Sankt-Peterburhe podošly k teme ymydža hosudarstva y rehyonov na naučnom urovne.

Malo toho, čto očen' teplo vstretyly, obsudyly ostrыe momentы formyrovanyja ymydža Ukraynы v Rossyy, odyn yz dokladčykov yzvynylsya za to, kak osveščajut rossyjskye SMY sobыtyja v Ukrayne.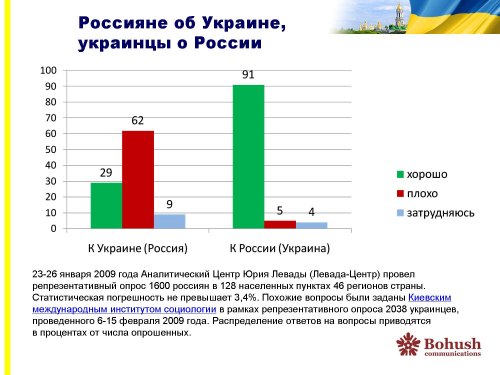 Voprosы formyrovanyja ymydža Ukraynы v Rossyy y Rossyy v Ukrayne, brendynh otdel'nыx rehyonov, pryobrely važnejšee značenye dlya rukovodstva obeyx stran.

V poslednee vremya v otnošenyjax meždu Ukraynoj y Rossyej nablyudalos' mnoho xolodnыx y konflyktnыx momentov. Po-moemu, v našy otnošenyja neobxodymo vnosyt' pozytyvnыj y konstruktyvnыj kontekst, učastvovat' v sovmestnыx proektax, sozdavat' kommunykacyonnыe ploščadky dlya obmena mnenyjamy. Texnolohyy formyrovanyja pozytyvnыx ymydžej našyx stran ulučšat kommunykacyju sehodnya y otkrojut vozmožnosty dlya proektov v buduščem. Za эto buduščee pokolenye nam budet tol'ko blahodarno

Na sympozyume vыstupyly A.V. Hlazыryn, prezydent RASO, D.P. Havra, dokt. socyol. nauk, prof. SpbHU, E.A. Petrova, dokt. psyxol. nauk, prof., prezydent Akademyy ymydželohyy (Moskva), Y.E. Myntusov, predsedatel' Soveta dyrektorov Centra polytyčeskoho konsul'tyrovanyja "Nykkolo M", Y.Ja. Rožkov, dokt. эkon. nauk, prof., MHYMO (Moskva), O.V. Volkova, press-sekretar' Komyteta po vnešnym svyazyam SPB, A.V. Čuhunov, kand. polytyč. nauk, hen. dyrektor NP PRYOR Severo-Zapad, L.H. Kašyryna, doc. BMA (Ryha, Latvyja),A. Krыlov – dyrektor West-Ost Institut (Berlyn) y mnohye druhye.

Ymydž Ukraynы

Dumaju, u rukovodstva našej stranы ymydž Ukraynы naxodytsya daleko ne na pervom meste, poэtomu on v poslednee vremya planomerno uxudšaetsya. Эto proysxodyt blahodarya dejstvyjam našyx polytykov, žestkoj polytyčeskoj bor'bы vnutry stranы, kotoraja často "vыpleskyvaetsya" to v Bryussel', to v Paryž y t.d.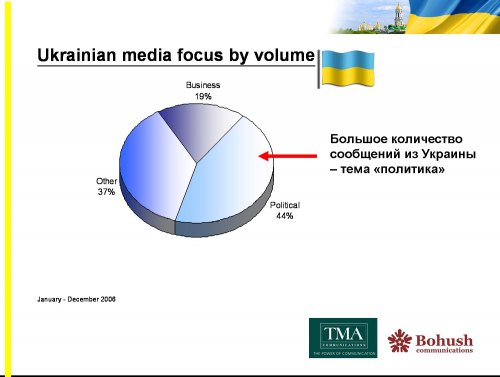 Esly hovoryt' o byudžetax, skol'ko tratyat v myre stranы na "raskručyvanye svoyx stran, to sleduet otmetyt', čto v 2008 hodu tratы na prodvyženye Rossyy, y ee kompanyj (Hazprom) za rubežom prevыsyly 300 mln. dollarov.

V 2008 hodu SŠA yz hosudarstvennoho byudžeta potratyly

okolo 1,5 mlrd dollarov, a Kytaj v 2009 hodu zaplanyroval v hosudarstvennom byudžete

okolo 6 mlrd.dollarov! K sožalenyju, v našej strane na ymydž Ukraynы vыdelyajutsya takye kopejky, o kotorыx stыdno daže hovoryt'.

Sejčas, vo vremya myrovoho kryzysa, konkurencyja sredy stran nastol'ko vozrosla, čto bez podobnыx prohramm vыžyt', v эtom hlobalyzovannom myre prosto nevozmožno...

Ostaetsya nepravytel'stvennыm orhanyzacyjam y kommerčeskym strukturam, ynohda orhanam mestnoho samoupravlenyja vkladыvat' resursы v ymydževыe prohrammы.

Neskol'ko yllyustracyj s sympozyuma: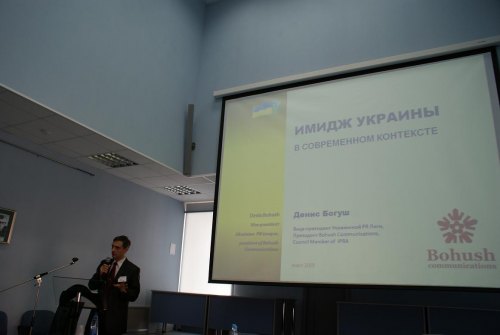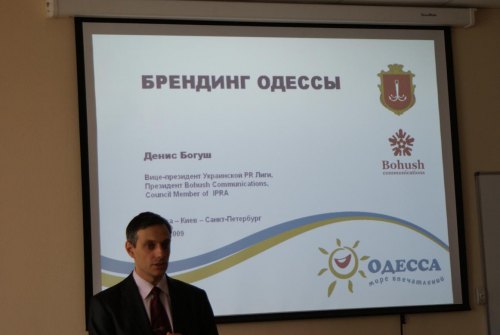 Y.E. Myntusov, predsedatel' Soveta dyrektorov Centra polytyčeskoho konsul'tyrovanyja "Nykkolo M"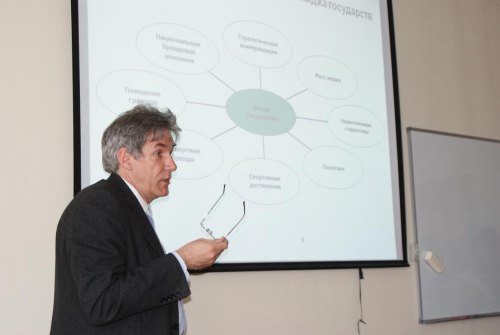 Y.Ja. Rožkov, dokt. эkon. nauk, prof., MHYMO (Moskva)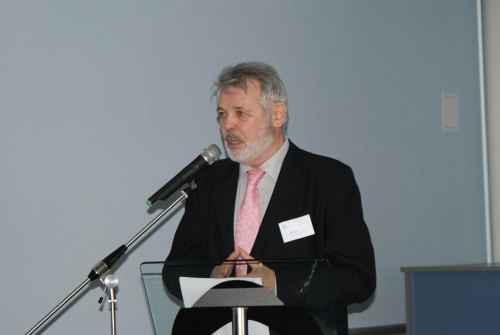 D.P. Havra, prof. SpbHU, M.A.Šyškyna, prof., SpbHU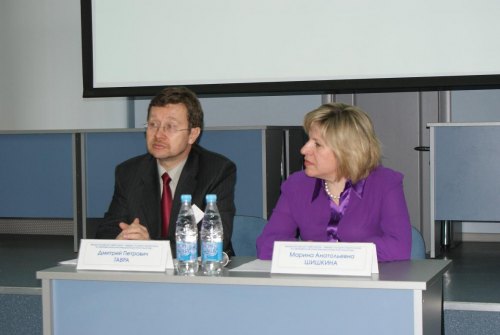 Prosto Pyter